Year-end reviews are a great time to bring up a topic that may be top of mind with clients: what to get their children, grandchildren, nephews/nieces, or friends' children for year-end holiday gifts. Instead of the usual gifts that children outgrow, break or don't want, you can propose something that really lasts: a college education. Year-end 529 gifting is a great way to expand your business with the many clients who are saving, or should be saving, for college.
IAdvisor supports you with tools and resources you need to start conversations, engage in productive dialogues, and ultimately, capture assets.
Online Gifting Platform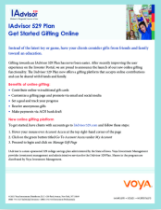 The IAdvisor 529 Plan now offers a gifting platform that accepts online contributions and can be shared with friends and family.
Gift Cards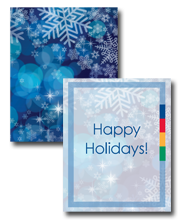 Download or order Gift Cards that can used to present a client's gift. In addition to a Happy Holidays gift card, these colorful cards recognize the following occasions: New Baby, Birthday, Academic Achievement, Graduation, and Any Occasion.
Accelerated Gifting Flyer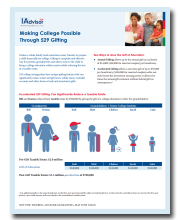 Use this client-approved flier with high-net-worth grandparents and relatives to help fund a child's education by utilizing the unique estate and gift tax advantages of 529 plans.